An exceptional figure
Composer, conductor, double bassist, teacher, lecturer, administrator, a man of action never shirking his responsibilities, André Amellér has a place in history as a complete artist, gifted with exceptional powers of work and unlimited passion.
Rendering hommage to the departed is to honour the brotherly spirit of a remarkable musician, who had always understood that music has mystical powers over the emotional nature of human beings. His entire personality is instilled with a powerful wlll to communicate, to be courteous, in order to better respect the spiritual benefits of music.
A man of action, known as "The Master", he could not refuse the numerous honorary invitations which enabled him to place the art of music at the forefront of every event. It is precisely for this reason that he travelled so much, from Dijon to Paris, to all the regions of France and from Paris to other continents. Each of these journeys was a unique occasion to immerse his musical compositions in exotic colour, subtly woven into a polyphonic theme, sometimes risky, nevertheless expressive. Never does he take the risk of losing a moment in time; in the train, in the plane, he is always writing.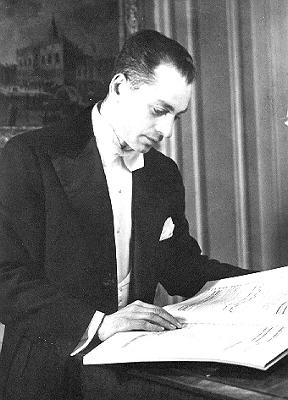 Generously, each creation of his fertile mind, even in mid-air at 12000 metres altitude, is devoted to his friends, to this or that person, or to renowned orchestras.
The temperament of this man resembles that of Gustav Mahler. Both harboured the same fearlessness, the same overwhelming desire for action, always serving more, serving better that wonderful mistress : Music.
Endowed with a volcanic nature, few tried to resist him, he knows what he wants, but also what must be done. The Master is competent and determined; and this since his childhood.
Born on January 2nd. 1912 at Arnaville (Meurthe-et-Moselle), he decided at a very early age to become a musician, and to join one day the Orchestre de l'Opéra de Paris. The dream of an adolescent...but few succeed.
At the Conservatoire National Supérieur de Musique in Paris, where he is admitted, he obtains between the ages of 22 and 34 his prizes for double bass, orchestral conducting, harmony, fugue, counterpoint, musical composition and the history of music.
In 1937, after a superb examination, he is admitted to the Orchestre de l'Opéra de Paris as a double bassist.
The man has won the bet of his boyhood. He will remain 17 years in this famous French orchestra.
But this is not enough for him, his foresight takes him into the future where other equally important projects attract him. Creating, stimulating, promoting become the means of his artistic achievement. He must therefore find an organisation that he can lead and develop, as well as regional and national responsibilities.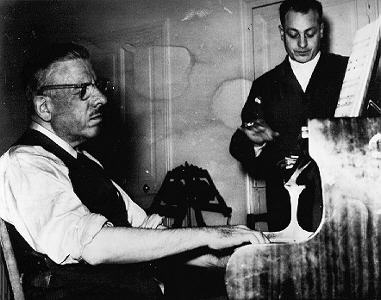 In 1953, the opportunity presents itself. The city of Dijon is looking for a dynamic and qualified Director to restore and to promote the musical life of this attractive capital of Burgundy. Brilliantly received in the examination for this post, he sets himself a second challenge to highlight his career; give the city of Dijon an artistic reputation based upon its Conservatory.
In 1981, after 28 years' management at the head of this organisation, he bequeathes a Conservatoire National de Région to Dijon, which receives 1500 students every year, and whose range of musical performances many cities can only dream about.
He knew how to recruit excellent professors, who trained a large number of professionnal musicians who in turn, after passing through the CNSM in Paris, became famous concert performers, orchestral conductors, managers, teachers, dancers and actors.
With André Amellér, the life of the Conservatory is enlivened by a spirit of companionship where everyone works to raise their own standards in order to justify the supreme reward - confirmation of the knowledge which the Master is looking for.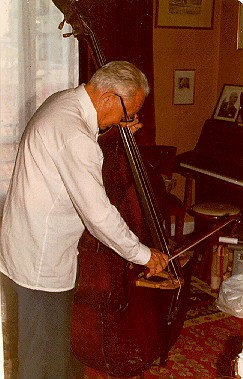 The first official recognition for each student is his admission to the orchestra of the Société des Concerts du Conservatoire. This symphonic formation offers the public of Dijon a monthly concert with the participation of internationally known artists and famous foreign conductors.What a wonderful school of apprenticeship for students who lived (as I did) these privileged moments!
Beyond this hive of activity, André Amellér is unceasingly composing. Today he leaves us with a catalogue of nearly 400 works, including 2 opera : Cyrnos, created in 1962 at the Théâtre de Nancy and La Lance de Fingal, created in 1957 by the Radio Broadcasting Services.
His eclectic production covers all forms of music : lyrical, symphonics and concert works, chamber music, vocal music, original works for harmonic orchestra, educational works at all levels.
As a past student of Maitre Tony Aubin in the class for musical composition, the works of André Amellér reflect perfect mastery of music writing and a relentless will to favour the beauty and the ethics of French musical tradition.
To thank André Amellér for leaving us such an important artistic message, his friends, his past colleagues and students and all those who appreciate his masterful work have decided to unite in an Association, whose responsibility is to safeguard for posterity the musical repertoire created by the Master.
This organisation, created with the encouragement of his wife, Jacqueline Amellér, the President of Honour, was registered in the Journal Officiel of April 1st. 1992 under the name Association pour la Musique d'André Amellér.
The current catalogue of works of André Amellér symbolises the objectives of the Association.
Bernard Dupaquier, Président.