Man of many aspects
Double bass player, teacher and Director of a Conservatory, lecturer, orchestral conductor, composer, he devoted his life to the defense of music and musicians.
Born on January 2nd. 1912 in the small Lorraine village of Arnaville, into a family of amateur musicians, he began violin studies from the age of seven. But after studying the poster advertising promoting the programmes of performances of the Théâtre National de l'Opéra, he became filled with the unshakable wish to become a musician and to enter this famous institution. Fortunately, he chose the double bass for his studies, and this became his favourite instrument. Very quickly, he acquired the qualities which allowed him to enter the Conservatoire National Supérieur de Musique in Paris, in Edouard Nanny's class, where he won first prize, first nomination in 1934. Thereafter, in 1937, his wish came true, and he entered the Orchestre de l'Opéra de Paris by unanimous decision over 16 other candidates.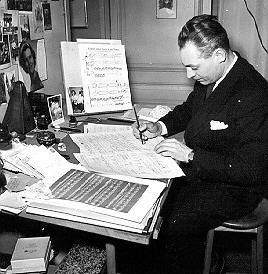 From 1932 to 1939, he lived the most important part of his life, frequenting orchestras : Pasdeloup, Lamoureux, la Société des Concerts. He plays under the direction of prestigious conductors : Bruno Walter, Toscanini, Wilhelm Fürtwangler, Albert Wolf and Paul Paray. Absorbing himself in this fabulous kingdom of symphonic and lyrical music, André Amellér's ambitions take a new turn. As a member of Philippe Gaubert's class for orchestral direction, he obtained a prize in 1938. Called up in 1939, taken prisoner, he does not renew his studies at the CNSM until 1942. In 1946, he receives a History of Music prize in the class of Norbert Dufourcq, and in 1947 a first prize for student musical composition from Roger Ducasse and later from Tony Aubin : the distinguished jury is presided by Claude Delvincourt and consists of Florent Schmitt, Louis Fourestier, Georges Enesco, Arthur Honneger, Marcel Mihalovici. Darius Milhaud recognised him as an equal.
His childhood dream can now be fulfilled.
In 1953, he is named Director of the Conservatoire de Musique de Dijon, which allows him to create from a small music school of 10 professors and about 170 pupils, a Conservatoire National de Région which numbered 50 professors and over 1 500 pupils in 1977. This Conservatory, a genuine training ground for musicians where some fifty CNSMP first prizes were awarded, leads to brilliant careers thanks to the constant support, the educational help and precious advice given by the Direct or. He promotes the creation of municipal music schools in the three Counties bordering the Côte d'Or, encourages the development of the teaching of music in primary schools, and helps to establish a Chair for Musicology at the University of Dijon. He spreads the reputation of the Conservatory not only in Dijon and in Burgundy, but throughout the four corners of Europe and the World.
From the moment of his arrival in Dijon, he transforms the Société des Concerts, of which he is President and Conductor for almost three decades. He knows how to form this orchestral material in the wake of his strong personality, mixing classical and contemporary works in his programmes : 135 french creations, 64 foreign ones. Overseas conductors are invited, opening the orchestra up to new horizons, as well as participating in concerts with the greatest french and international artists of the period. André Amellér, pilgrim of French music, also frequently raises his baton and opens his partitions to direct major musical groups throughout the world.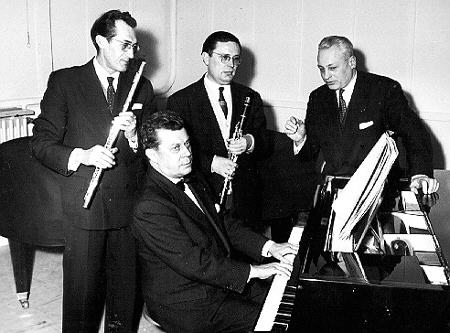 He follows with passion the amateur music, harmonies and fanfares. He is elected as President of the Confédération Musicale de France in Côte d'Or (1953-1981), and as National President (1977-1983).
As pedagogue, he is in charge to lecture in composition and in History of Music in the Conservatoire. He is also a pioneer of the ISME (International Society for Music Education), Vice-president from 1972 to 1976 and general delegate representing France from 1968 to 1982, coordinator of the Dijon International congress of ISME in 1968 with 3000 participants from 45 countries.
His greatest joy was to compose : he wrote easily, at any time, anywhere, in the train or in the plane, following his impulse, his inspiration, or a specific need to create. The description of composer was that which gave him greatest satisfaction, even pride. His music, born and bred of the classics, of the human universe, interwoven with the exotic, but never refusing to research sound or rhythm even to a level of aggressiveness, is forged in the mould of his emotions, reflecting the mea sure of his impressions, his vision, his feelings, his passions. His inspiration was motivated by the pleasure of his controversies, his encounters, his professional needs (for example, all his theatre music written for the Comédie de Bourgogne, or the items composed for the orchestral class at the Conservatory). A music of contrasts , it bears the seal of the man himself, his personality, his character and his life.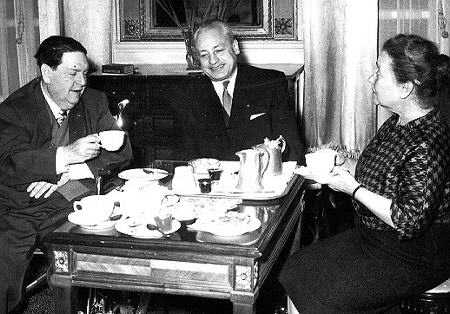 Full member of the SACEM in 1963, André Amellér leaves behind this catalogue of 381 works covering all instruments and all themes. A man of "musical" action, his life was not constrained by space or by time. Curious by nature, always ready to work and to fight for music and musicians, he remained totally committed to his many activities; other than those already mentioned, he was throughout the years : Director of studies of the International Summer Academy of Nice in 1959, 1967, 1968, and Deputy Director in 1973, member of the Board of the Association Européenne des Directeurs de Conservatoires, Ecoles Supérieures et Académies de Musique for many years, President of the Ordre National des Musiciens, member of the Music Commission of the Fondation de France, President of the Oeuvre des Vieux Musiciens, President of the Anciens Elèves et Elèves du CNSMP from 1983 to 1987. Constantly in demand as a result of his various duties, and conscious of the advantages that his position could offer, he wrote numerous articles and gave many lectures about French music and musicians, both in France and abroad. Highly respected, he was invited every year to join French and international juries.
André Amellér was an Officer of the Légion d'Honneur (1978), Commander of the Ordre National du Mérite (1975), Commander des Palmes Académiques (1981), Chevalier des Arts et Lettres (1960), Médaille de Vermeil of the city of Paris (1987).
He died on May 14th. 1990.
Jacqueline Amellér, Président d'Honneur